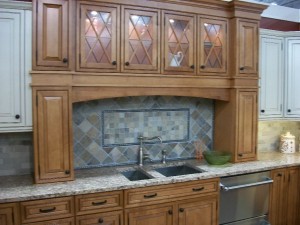 Are you feeling tired of your cabinets but aren't sure if you need or want a complete remodel?
Brand new cabinets are often the best case to transform your kitchen but some short term goals are available. Considering updating the look of your cabinets without spending the money on a full remodel with the following ideas and tips:
Paint. Sometimes a fresh coat of a paint can work wonders on cabinets. It's also an easy way to personalize your space with different color selections. Be sure to use the correct paints to prevent chipping.

Consider adding task lighting or up lighting. Up lighting involves placing a strip of light (that can be energy efficient) on the top of the cabinet. Task lighting is usually under the cabinets to illuminate the objects below. Consider adding an option with a dimmer, which can help set the mood for the daytime or night.

Take the doors off! Taking the doors off of a cabinet unit will help the open the kitchen if your space is a little smaller.

Add a glass insert. Adding the insert is something you could do yourself or have a professional do. You can choose from many different finishes depending on your home's décor.

Add crown molding. This will help to give your cabinets some height, and increase their aesthetic.

Add additional storage on your cabinets, whether it be a spice rack, or a rack to hold your pot and pan lids. This is a great way to make use of the space in your kitchen and provide you with more counter space in the long run.

Change your knobs or handles! This is such a quick fix and affordable as well. Changing the handles or knobs on your cabinets and drawers can update your kitchen in minutes.
If you are interested in some of these ideas and more, we can help! We specialize in custom cabinetry and aim to provide you with the best service at an affordable price.